Reading the History of Chinese Civilization from Its Museums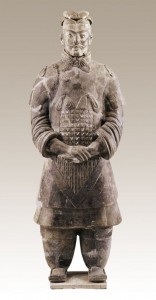 China has an ancient civilization with a very long history. CUnderstanding it solely through the study of documents is clearly inadequate. A wealth of objects and remains has been preserved on China's vast territory and underground; much of which has been collected and is exhibited in various kinds of museums. This raw material of history can, in a certain sense, be considered more valuable for our understanding of the past than documents and historical records.
One can see many of China's cultural treasures in Western museums. Some of these are exquisite works of art, but at the same time they are fragments that have been removed from the original matrix of their being. To enjoy a complete and systematic experience of Chinese cultural history, one must visit the museums of their native land.
Although there are Dunhuang sutras in the British Museum, stolen by Aurel Stein, Dunhuang itself and the center of Dunhuang Studies remain in China. Although quite a few treasures from the Summer Palace were looted by British and French troops and are now exhibited in France at Fontainebleu, the majority of choice pieces remains in the Palace Museum in Beijing.
In the past, China's antiquities and most artworks were kept in the recesses of the reshidences of aristocratic families and the imperial clan. The public at large was not able to see them. China's modern museums started from the Westernization Movement of the early twentieth century and the overthrow of the feudal imperial court during the Xinhai Revolution (1911). Only after this was the public allowed to enter the halls and pavilions and enjoy the fruits of the civilization of their own ancestors. In the past twenty to thirty years, due to China's opening and reform policy as well as to the development of a market economy, travel, tourism, and cultural exchange have greatly increased.

China's socialist museums have developed along with these changes: they have been rebuilding and expanding old museums, adding new buildings, increasing collections, modernizing exhibition facilities and strengthening archaeological research. There are now some 2,000 museums in China of all varieties. Visitors from both China and abroad have increased, with very positive results in the realm of education as well as in simple enjoyment.
Museums are a sort of three-dimensional encyclopedia. In the West, the Goddess of the Muse has been considered a kind of guide to Western culture. The Temple of the Muse at Atlantis was originally a comprehensive cultural arts organization and Western museums harken back to this early beginning. In China, museums originated in the collections of the ancient imperial families. They too were of a
comprehensive nature and the cultural guide to the East was termed a 'bo-wu' gentleman, or a man in command of broad or extensive matters. The term 'museum' in China, 'bo-wuguan,' means a place devoted to broadly-conceived mtters.
Many of the museums selected for this book have been designated as key protected cultural sites by China. Some have been included in the United Nations' UNESCO List of World Cultural Heritage Sites. I hope that this volume can serve visitors as a guide to understanding these museums.